Privacy Policy
Server
This server logs each access. Stored in the logfile are the IP address and the accessed web page for operational purposes (such as statistics or detecting break-in attempts).
Cookies
Cookies are small text files that can be used by a website to identify repeated visitors for the duration of their visit. These files are stored by your browser on the hard disk of your computer and do not cause any damage. The cookies on this page are used to let the user log in to the provided services.

You can prevent the storage of a cookie on your computer by applying the appropriate settings in your browser software.
AlertR Account
The AlertR Account stores the eMail address of the registered user as user name as well as means for contacting the user in important situations (such as break-in attempts to the server). The password is stored as hashed value (hash function: bcrypt) and cannot be reverted to its original form.
AlertR Push Notification Service
For statistical purposes, the AlertR Push Notification Service stores the time a message is sent through the notification service. This data is deleted after 182 days.
ChasR GPS Tracking System
The ChasR GPS Tracking System stores the location data of the user collected by the logger devices in an encrypted form. For processing purposes, the time a GPS location is taken and the corresponding device name is stored unencrypted. The location data is deleted after 365 days.
Imprint
The responsible party for the content of this site is: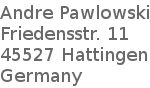 Despite careful content control we assume no liability for the content of external links.